There is nothing quite like MMA Football.
​
Endless practices on hot and humid afternoons where you're dripping sweat and getting eaten by mosquitoes that appear to be the size of pterodactyls. Getting out of bed before the break of dawn just so that you can report to your morning sessions. Having to turn on the field lights because the sun isn't even up for practice time. Leaving the field soaking wet from being tackled in one of the multiple puddles that form after a sudden heavy storm. (Missouri weather is unpredictable!) That beautiful sound of pads crashing during training camp, celebrations after a great play, coaches' whistles everywhere, and that sense of excitement that hangs around the upcoming season.

After practice we go back and change to our duty uniform, march over to the mess hall and resume our day as MMA cadets.
​
Football is a sanctuary of sorts for us cadets, a place where rank is non-existent, where the only positions that matter are the ones out on the football field. Where we can all co-exist as equals, as brothers, and as teammates.

No other school will have the bond that our team has.

We might not have played all of our lives together, we may not have grown up together or even be from the same country, but as far as we are concerned, we are brothers. We see each other 24/7. Our brothers' faces are the first we see when we wake up. There is nothing that we do not do as a group, and a result of this, we are closer than any other team, and we will always have our brothers' backs, and will fight beside every single one of our brothers in the field and for all of those in the stands cheering for us.
These are just some of the things that I was a part of during my first few weeks playing football here at the Academy. In such short time though, I quickly noticed just how special football is at the Academy.

Our football program has always been very successful, even if we don't win many games.
Because you see, MMA does not have a football program so that they we can become a powerhouse and ship out players to Division-1 colleges. We build personal courage, resilience, integrity and inner strength. No matter what the score is, we will never give up, until we can no longer play, until the last whistle is blown. Until we have left every single ounce of effort out on the field, we will never surrender. No matter the score, no matter the opponent, we will never give in.

Why? Why do we keep fighting, even when the game is clearly out of reach?

Because you never give up on family.

A living example of that is our starting quarterback, senior cadet Sean Fitzgerald. He has been an integral part of our football team for the past four years, and now he is the heart and soul. As a captain and a player, on and off the field, he makes invaluable contributions to our team. He will be the first one to get on our case when we are slacking off during practice. He will be the first one to celebrate every time we make a good play. He is one of the main reasons I joined football.

With Fitzy and our Battalion Sergeant Major, Gabriel Elizondo, I could see that there was something special in the making.

You see, there is a more positive vibe in the air this year.Instead of passing around the blame, we accept that we as a team failed, regardless of the individual mistake. Fitzy has been an integral part of it, and you want to be positive when you're around him, his big smile and his love for the game make you want to play with him.

Just like our team as a whole, Fitzy's always been the underdog, labeled too small, or lacking attributes to be an elite football player.

What does he do about it? He shuts his mouth and proves every single one of his doubters wrong by turning in awe inspiring and record breaking performances week in and week out. Just two weeks ago, during our season opener, he posted a mind-boggling 286 rushing yards, shattering the previous school record.
That has led him to even be recruited by many colleges around the area. Yet as good as a player as he might be, he's an even better leader and brother.

During our Week 2 matchup against Clopton-Elsberry, we were clearly being outplayed and Fitzy was taking a beating. He couldn't go anywhere without at least two bodies hitting him hard and throwing him to the ground. You knew his frustration grew every single play, and he was annoyed because he couldn't possibly do more than what he was already doing.

He was getting pummeled, and everybody was growing annoyed, blame was being spread around, we were straying from those values that made us all so special. It truly was hard and frustrating to watch my brothers like this. It was especially hard for Fitzy.

Frustration eventually turned into tears for him, as he couldn't hold them back as he was addressing the team during halftime.
Heads were all down, and spirits were as low as could be.

That though, changed very quickly, due in part to motivation provided by Elizondo, our team captain, who helped raise the team morale before we all went for a quick stretch.

Afterward, I conversed with Fitzy, I told him that he was the heart and soul of the team, that he couldn't let the team give up. I promised him that if he showed everybody that he was never going to give up, then nobody else would. What happened next was something unlike anything I'd ever seen. Fitzy displayed an amazing level of sportsmanship, leadership and integrity during the second half of the game.

He pumped the team up just before the second half kicked off, and he was determined to show everybody that we would never give up. Even though we were losing by a landslide, he persevered. After every time they brought him down, he would congratulate the other team with a "Nice play man!" or "Good tackle."Throughout the game, he urged us to not celebrate on defense, but instead to help our opponents up and respect them as the winners.

That's all a part of the beauty of MMA Football.

We ask you to be the strongest. We don't ask that you make every tackle or catch every pass, we don't ask you to score touchdowns. Those are just bonuses. What we do ask is for you to never give up, to make everybody who is watching you proud, so that other teams know that they can hit us as many times as they like, but they will never bring us down. Because as a family, we'll never let a brother walk alone, we'll never let them give up. If we lose, let it be as a family, let us learn from it, become better, but more than anything, make the Academy proud. Make the corps who is watching us proud by being good sportsmen, gentlemen and young men of character. Because as our Athletic Director, Coach Kevin Farley says, "It's all about being better today than you were yesterday, and being better tomorrow than you are today."
He also taught me one of my favorite phrases, he taught me that it's not about pursuing victory at all costs, but instead to pursue victory with honor.

We are MMA Football. Together we stand, divided we fall.

That's who we are, that's what we stand for.

The "HONOR" sewed on our backs serves as the perfect description of our team and why we play.
Powered by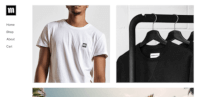 Create your own unique website with customizable templates.